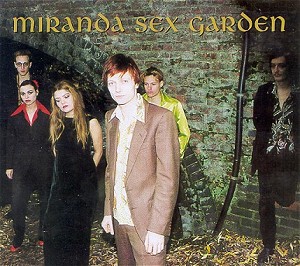 Promotional shot for SugarDaddy. Left to right: Mike, Teresa, Katharine, Trevor, Barney, Ben
It has been implied in other biographies and various sources on the Web that MSG was only resurrected again in 1999 for the recording of Carnival Of Souls. This was in fact not the case at all. MSG never really went away, they just disappeared from the international scene, well in fact even from the national scene in the UK. However after a small hiatus, in which they found themselves a new violin player in Barney Hollington, they started doing gigs in London again. Not only that, but they sounded great again. Their live sound had eventually suffered from all the changes and there'd been a sense of frustration in the band. However the new MSG that emerged, also featuring Teresa Casella on bass and Mike Servant on keyboard were playing like a well oiled sex garden machine. They even started playing new material. In the meantime Katharine had formed The Mediaeval Baebes, Ben had formed The Naked Goat and Trevor would soon go on to form The Servant with two other ex-members of Minty. There were overlaps too. Barney also played in The Naked Goat and Teresa was one of the original Mediaeval Baebes. The cool thing was that with all these different projects going on, they could mix and match as support and headline in the same gigs – and they did.
In 1999, in an unexpected turn of events, MSG were given an opportunity to record a new album for SugarDaddy Records, a record label set up specifically for this release, but with ambitions to do more. This was made possible by someone who has described himself as "a mysterious male benefactor - the eponymous SugarDaddy" in a press release. You can find a link to it on the LINK page. MSG grabbed the opportunity and recorded Carnival of Souls, arguably their best and certainly their most coherent album. The line-up was the same that had been playing gigs for the last few years: Katharine, Ben, Trevor, Teresa, Barney and Mike. They were joined by, among other people, Nick Marsh on guitar and several Mediaeval Baebes doing backing vocals. In 2000 SugarDaddy Records released the album and the "double A-side" single Tonight/Sex Garden, which is now very rare. It was a rather curious single, which contained a shorter radio edit of the album track Tonight and two versions of the song Sex Garden, which did not actually appear on the album. Sex Garden was described as a dance track (probably a failed attempt to get some air play), which was rather misguided and as anyone listening to it will agree, actually not true. It was a nice little slice of psychedelia, but entirely overshadowed by the superior track Tonight. Carnival Of Souls was released in the US by Cleopatra later the same year. MSG also contributed one song to a Cleopatra compilation of Radiohead covers called Anyone Can Play Radiohead. The song was the much covered "Exit Music (For A Film)". Most of the covers did not live up to the quality of MSG's and the album sank like the Titanic. Luckily you can still get this little gem of a track on its own as a digital download and it deserves a place in any MSG fan's collection. You can get it through the EARS page.